Sunday, November 06, 2005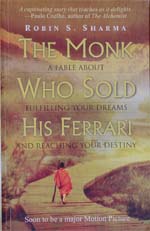 Now days I'm reading,
"The Monk who sold his Ferrari
", by
Robin S. Sharma
.
It's a story of a lawyer, Julian, very famous, extremely successful and possessing loads of wealth, who abandons all the worldly pleasures to move to the Himalayas of East in search of peace of mind. There he meets the Sages of Sivana who shares with him the key to peaceful and successful life. Finally he returns to his land, and preaches the wisdom he has gained during his sort of exile to his friend and colleague John.
The major part of the book is focused on the teachings of sages of Sivana through the mouth of Julian. The book provides good food for thought and pushes you to think how can you apply those theories to your own life? The book is not the one which you can read at one go. If you really want to enjoy the book and gain the knowledge from it, try reading it slowly imbibing the overflowing knowledge. It may sound boring at times as there is repetition of concepts but overall it's a good book.

Some of the concepts which really touched me: live each day as if it's the last day of your life. Call up everyone you want to, do everything you want to as you would do on the last day of your life. Laugh quite often. Even if you don't feel like, do it forcefully. And believe me. I tried it and it helps to overcome your anger, bad mood etc. If you want to acquire a new habit, do it without failing at least for 21 days, at the same time and same place. Set your priorities. Spend some time on yourself. Breathe from the stomach. Meditate quite often. Concentrate a lot on self-improvement (practice the art of kaizen- for all those who have read the book). Try to find joy in small little things and enjoy the life (pata nahin kal ho na ho ;-)). And lots more………

So overall I liked the book… but you need to have the patience to read the book. Many a times you will have a great urge to leave the book midway. But read it till the end. It may improve your quality of life.